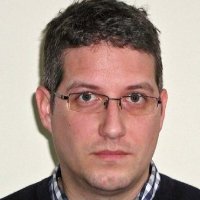 Darko Vončina, the picture taken from the website
Within the NEWFELPRO project "Ecology of New Grape Virus in Croatia and California", doc.
dr. sc.
Darko Vončina from the Faculty of Agriculture in Zagreb, in cooperation with prof.
Rodrigom P. P. Almeid, Department of Science, Policy and Environmental Management - UC Berkeley has discovered a new virus in the grapevine.
New virus, found in the Croatian autochthonous variety, which is grown in the Kastela area, is named "badnavirus 1" .
The discovery was published in the Archives of Virology magazine, and paper is available on the link: https://link.springer.com/article/10.1007%2Fs00705-018-3850-6
.
Darko Vončina is a NEWFELPRO's researcher in the outgoing scheme who successfully completed the implementation of his research called
Ecology of an emerging grapevine virus in Croatia and California
(EcoGVCC) in December, 2016 at the
University of California, Berkeley (USA)
and at the
Faculty of Agriculture (University of Zagreb
).
The objective of the project were grapevine viruses with special accent on
Grapevine leafroll-associated virus 3
(GLRaV-3). Croatia is characterized by numerous autochthonous grapevine cultivars that represent national heritage. Unfortunately, beside good agronomic traits, autochthonous cultivars are characterized by high infection rate with different viruses that have negative impact on their production. The aim of the project was to test autochthonous grapevine cultivars on a scale of viruses with special accent on GLRaV-3 as prevalent and most important virus in Croatia and California. During the project typing of Croatian GLRaV-3 isolates were done together with transmission experiments using vine mealybug (
Planococcus ficus
). Also, sanitary status of some vines was ascertained using next generation sequencing. The results represent significant contribution to the existing knowledge of sanitary status of autochthonous Croatian grapevine cultivars. Beside that, project implementation created prerequisites for further investigation of grapevine viruses and their ecology in Croatia.
The results of the project professor Vončina presented on
Essig Brunch Seminar (UC Berkeley)
in a lecture titled
Grapevine virus in Croatia: past, present and future
.
During the implementation of the project he attended the following events:
Part of the results is accepted for publication in
Plant Disease
journal titled
Viral Diversity and Croatian autochthonous grapevine cultivars.
Upon completion of the project, Darko will continue cooperation with scientists from UC Berkeley and UC Davis, and will work on dissemination of the obtained results. Finally, he plans to apply for new national and international funds for his current and future proposals.